ELK OF THE MONTH FOR SEPTEMBER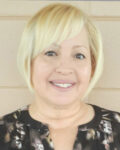 This month's Elk of the Month is Carmen Acevedo, a young woman of considerable drive and determination who, for many months now past has served as our Event Coordinator.  In that capacity, she meets with members of the public interested in the rental of our facilities for family gatherings, receptions, baby showers and private parties, negotiates on behalf of the Lodge the terms of any such rentals, and shepherds such prospects through the entire process through and including the day of their event.  She is a also a member of our Entertainment Committee, and her skills as a graphic artist can be seen be in the various event posters she has generated for use at the lodge in promoting coming events and other activities.
Carmen is a Deputy Sheriff with the Orange County Sheriff's Department and serves as the Community Resource Officer assigned by that Department to Waterford Lakes Elementary School.  She is also a member of the Latino Peace Officers Association and other community organizations, and has been recognized on times too numerous to mention for her devotion to her students and her fellow peace officers.