Oktoberfest Coming Soon!

The Big Red Bus will be returning on Hallowe'en!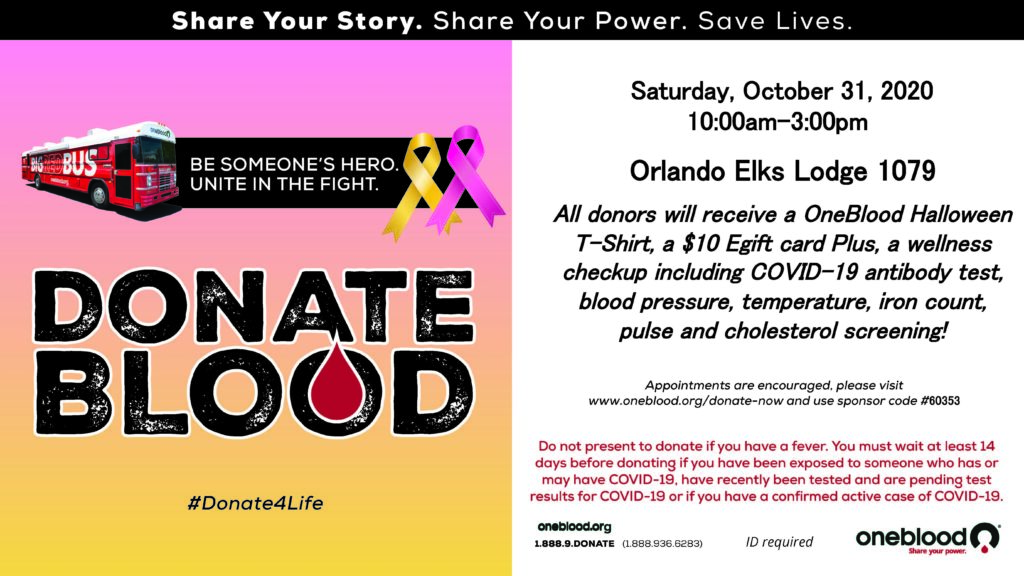 If you would like to schedule a donation to give blood at the Lodge on October 31, click here!
Public Bingo returned on Monday nights in early June.  While the number of persons in attendance at these games has been less than optimal, the Lodge will remain open for those games for the foreseeable future.  We still lack an adequate cadre of volunteers with which the conduct these games.  We need callers, cashiers and floor personnel.  If have the time available and are willing to help us out, even if only on an occasional basis, please call Denise Johns at (407) 267-7657.
Burgers and More and the Pub
Burgers and More continues on the first and third Saturdays of each month.  The next Burgers and More will next be held on Saturday, September 19 between the hours of 11:00 a.m. and 2:00 p.m.
The Pub will be open throughout the day.  Guitarist Paul Caston will be performing in the Pub during the evening and pub fare will be available as well between 6:00 and 8.00 p.m.
 The Pub will be open on Monday, Wednesday and Thursday evenings from 4:30 until 10.00.  It will also be open on those Saturdays when Burgers and More is scheduled.
Board Meeting / Lodge Meeting
The Board of Directors will next meet in the Pub on Wednesday, October 7, at 6:30 p.m. 
The Lodge membership will next meet in the Lodge room at 7:00 p.m. on Wednesday, September 23.  An initiation will be taking place during the meeting and officers are reminded that they need to be "in uniform"!
This and future week's karaoke events will be held on Thursdays between the hours of 6:00 and 9:00 p,m.   The cover charge is $3.00 per person.   The bar will be open and pub fare will be offered between 6:00 p.m. and 8.00 p.m.!
It's still too hot!  Weather permitting, the walks  will  resume in October.
* * * * * * * * * * * * * * * * * * * * *
Members and guests are required to observe the masking and social distancing recommendations of the CDC as well as those mandatory requirements as to such matters as are presently in effect in Orange County when visiting the Lodge!